How did it start?
D'lizious started when Liz was stationed on the island of Nusa Penida for her conservation work. Being an ice cream lover, she had difficulties finding good ice cream on the island. Most of the ice cream available there were transported from Bali so they had melted and re-frozen by the time they reached Nusa Penida. Thanks to the generous Mr. Frank who gave Liz an ice cream machine (all the way from Germany!), so she could start experimenting making ice cream and sharing them with her friends who kept asking for more.
By using natural ingredients, Liz's ice cream is known for its great and fresh taste but she felt the texture was not fluffy enough. It was when she found out that a lot of commercial ice cream manufacturers can create velvety smooth texture because there are tons of chemicals added to the ice cream. If you check their ingredient section you'll find a lot of unnecessary additives and chemicals there, that you may not want to eat it anymore.
Instead of competing with these big ice cream companies, Liz (and lots of her friends) wants to keep her products all natural by using only high quality ingredients. The idea is to create something that people would make at home but they don't have the time or the equipment. Ice cream machine can be expensive and creating a batch of ice cream may take from 15 to 30 hours depending on the flavour. Cheap ice cream can be easily found everywhere, but good quality ice cream can be expensive – this is the gap that D'lizious wants to cover.
In D'lizious you can find ingredients that someone would feed their family with: all natural, no chemical colourings, no artificial flavourings. There are already a lot of ice cream brands out there offering fluffy texture, strong flavours, vibrant colours, cheap price, and many more pluses, but only a few brands offer natural ice cream made from high quality ingredients. Why? Because it's a lot more expensive and with distribution cost people may not be willing to spend that much anymore. In D'lizious all ingredients are locally sourced when possible, that's why we can offer premium quality ice cream with affordable cost.
So, who is Liz?
You see her name every time you read the brand. You call her name every time you mention the brand. But who is she?
Liz is a wildlife vet working at a sea turtle rehabilitation centre in Nusa Penida (if you haven't visited the centre yet, please do) who loves to cook and bake in her free time in between saving turtle lives.
The initial plan was to sell her products only in Nusa Penida, but COVID-19 had another plan for Liz as crossing the sea to Nusa Penida wasn't possible, so she was forced to start the brand in Bali.
She was reluctant in the beginning because coming from a completely different background, she had minimum knowledge in a highly competitive culinary industry.
Fortunately she started gaining confidence when people bought her ice cream, gave good feedback, and repeated orders.
So, if you're enjoying D'lizious in Bali please give some credits to COVID-19!
Packaging
Being a wildlife conservation enthusiast, Liz has a big concern for environmental issues and is very careful of how our actions are affecting our earth.
Plastic trash has been an ongoing issues in Bali and especially in Penida where there's no proper waste management and recycling program. Plastic packaging is something very common and widely used in commercial production because it's very cheap.
Even though the price of plastic packaging is very tempting, Liz still sticks with her decision to lessen the negative impact for our earth and created her own paper box packaging – our signature packaging which was quickly copied by other brands. They can copy the packaging but not the quality. After all, imitation is the best form of flattery!
Finding the right material was probably the most challenging part of the process but the result is also very rewarding. By choosing D'lizious you are contributing in reducing the harm caused by plastic trash for our earth.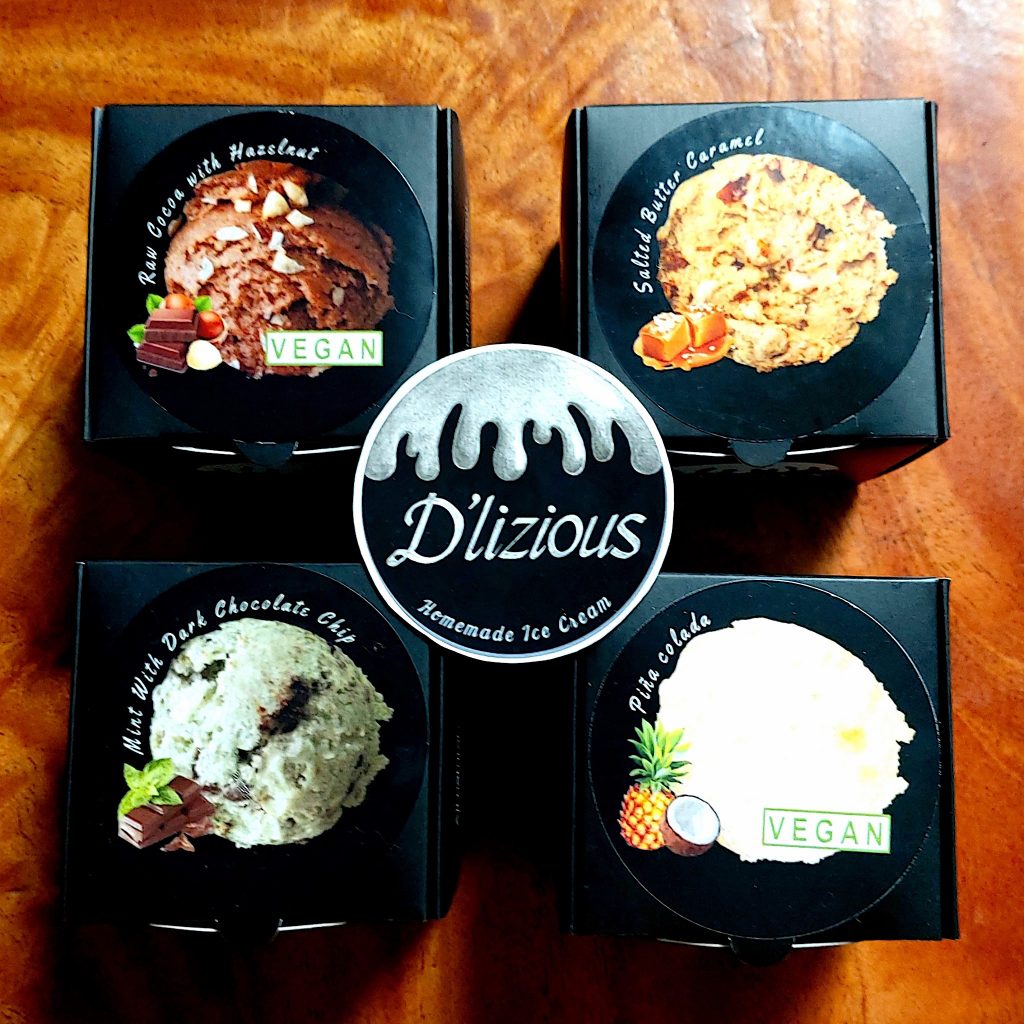 Ice cream scoop is usually round, so why created something that is out of the box? (pun intended)
The packaging design is actually related to Liz's passion in minimizing negative environmental effect. The cuboid shape minimizes empty space, allows more products to be stored and transported at the same time, which means it significantly cuts the product's carbon print.
Don't let the shape and size deceive you because one small box equals to 1.5 cup. Depending on how generous you are when it comes to dessert sharing, one box may be enough for two people.